More Than Money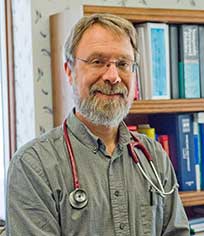 At Maple City Health Care Center, low-income people who have no insurance are eligible for sliding fee discounts. Some families pay no more than a nominal fee for their health care.
In tough times, however, some families are unable to pay even a few dollars. Because Maple City's mission is to foster a healthy community, the staff and board decided that building the community is worth more than money.
Now, patients who cannot afford to pay money can pay for their health care by volunteering for community organizations. A variety of organizations have agreed to use Maple City's volunteers. Some of the organizations include LaCasa, Chamberlain School, Habitat for Humanity, and The Window.
"This is not charity," James Nelson Gingerich, Maple City's Executive Director, explains. "People in the More Than Money program are helping us accomplish our mission, which is to foster a healthy community."
As of September 2011, one hundred thirty-five people had used the program. They volunteered for dozens of community organizations including The Window, Habitat for Humanity, Maple City Market, Center for Healing and Hope, and LaCasa.
The families in the More Than Money program have volunteered more than 1,400 hours.

A mother of three children described the More Than Money as "a good help". She said that she and her husband felt depressed and stressed because of unemployment and bills. "When we started working at Center for Healing and Hope, we felt better about ourselves and our situation."
The father of a family of three children said, "I felt relief that I could pay for the doctor." His work had unexpected benefits. "When I worked for LaCasa, I learned how to build walls and fix plaster."